A Clue! A Clue! is the fifth Pretty Little Liars spoof that has been done by SIMGM.
Aria has been kidnapped! The girls follow A's Clues to get her back.
Shay Mitchsim (Shay Mitchell) as Emily Fields
Troian Bellisimio (Troian Bellisario) as Spencer Hastings
Lucy Simale (Lucy Hale) as Aria Montgomery
Ashley Bensim (Ashley Benson) as Hanna Marin
Sasha Pietersim (Sasha Pieterse) as Alison DiLaurentis
Keegan Simallen (Keegan Allen) as Toby Cavanaugh
Voice Cast
Edit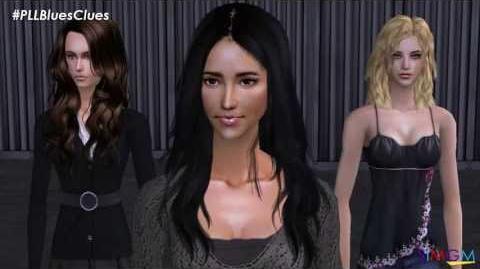 Ad blocker interference detected!
Wikia is a free-to-use site that makes money from advertising. We have a modified experience for viewers using ad blockers

Wikia is not accessible if you've made further modifications. Remove the custom ad blocker rule(s) and the page will load as expected.