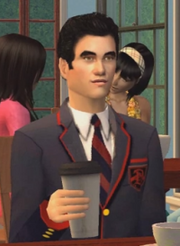 Blaine's Quotations
are some of the quotations made by
Blaine Anderson
in season two, season three and the minisodes of SIMGM's Glee spoof.
"

We wanted to properly say goodbye to you 'Warbler style'. Were gonna miss you 'Lemon Drop'.

"

—Blaine to Kurt, Neglect This Way
"

I've been working on keeping my eyebrows still.

"
"

Blaine: You sounded really great with the Warblers. You make a great new leader for the guys.
Sebastian: God you are so cute. I'm finding it difficult not to crawl across this table, slather you in honey, and lick you from toe to eyebrow.

"
"

Brad Simtt: The first rule about fight club; don't talk about fight club.
Blaine: Well...what if it slips out in a song accidentally or-
Brad Simtt: Don't. The next thing you need to know about-
Blaine: Is being shirtless a mandatory thing? I'd rather wear a tank top with some matching gym pants, and hair gel is a must.

"

—Blaine and Brad Simtt, Hold On to A Girl
"

Kurt: He had the best sideburns.
Blaine: I'll let that one slide.

"

—Blaine to Kurt, No Michael/Yes Elvis
"

Sebastian: Sure, but I'd like to add a little color to Kurt's hair first.
Blaine: No, not his hair!

"

—Blaine and Sebastian, No Michael/Yes Elvis
"

Puck: Dude, it's just a slushie...
Blaine: Oh it burns...do my eyebrows look okay?

"

—Blaine and Puck, No Michael/Yes Elvis
Minisodes
Edit
"

Kurt: I like the color red. Do you like the color red? Do you think the color red has a taste? And what would it taste like if it had a flavor that could be tasted?
Blaine: ... do you wanna sing about it?

"

—Kurt and Blaine, Santana's PSA
"

Blaine: Its all about joy and love, and singing....s-singing songs!
Kurt: Blaine don't you dare break out into song-
Blaine: Ahhh-
Kurt: Its almost time for our guests to arrive!

"

—Blaine and Kurt, Christmas Special
Ad blocker interference detected!
Wikia is a free-to-use site that makes money from advertising. We have a modified experience for viewers using ad blockers

Wikia is not accessible if you've made further modifications. Remove the custom ad blocker rule(s) and the page will load as expected.