Kurt's Problem With Blaine
Episode 1
Air date
March 24, 2011
Duration
1:57
Episode Guide
Previous
N/A
Next
Santana's PSA
Kurt's Problem With Blaine is the first minisode in the Glee spoof series. It was released on March 24th, 2011.
Kurt is annoyed at Blaine because of the fact he sings everywhere and he does it compulsively, therefore making him an 'Obsessive Compulsive Singer'. Blaine denies this this because he doesn't think he sings that much. He is proved wrong by Kurt as he shows he sings everywhere such as the bathroom, the cinemas, casually walking down the street, when Kurt is drinking coffee, or even going to bed. Blaine sees the point at the end, and Kurt tells him he needs to work on it.
Minisode Quotes
Edit
Main article: Kurt's Problem With Blaine Quotations
Voice Cast
Edit
Two of the SIMGM merchandise t-shirts contain quotes from this minisode. They are "Obsessive Compulsive Singer" and "We are walking down the street, and we have two feet".
Along with the Christmas Special, this is the only Glee spoof not to include any swearing.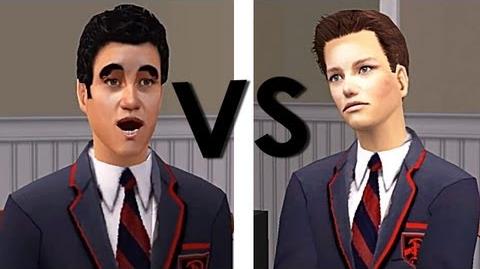 Ad blocker interference detected!
Wikia is a free-to-use site that makes money from advertising. We have a modified experience for viewers using ad blockers

Wikia is not accessible if you've made further modifications. Remove the custom ad blocker rule(s) and the page will load as expected.