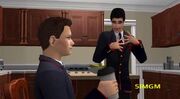 These are some of the quotations from the minisode 
Kurt's Problem With Blaine
, which aired March 24th, 2011.
"

What do you mean CutiePiedDumplingSugarTwinkling­Dove?

"
"

Kurt: You have a problem.
Blaine: What problem?
Kurt: How can I put this lightly?
Blaine: Just tell me.
Kurt: YOU'RE A OBSESSIVE COMPULSIVE SINGER! There I said it!

"

—Kurt and Blaine, on blaine's compulsive singing problem
"

Blaine: ♪ What's there to do, when Kurt's taking a number 2? ♪
Kurt: Blaine!

"

—Blaine and Kurt
Ad blocker interference detected!
Wikia is a free-to-use site that makes money from advertising. We have a modified experience for viewers using ad blockers

Wikia is not accessible if you've made further modifications. Remove the custom ad blocker rule(s) and the page will load as expected.