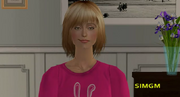 These are some of the quotations from the Fifth minisode, 
Quinn's Summer
.
"

I WOULD'VE ANSWERED BUT I WAS TOO BUSY NOT GIVING ANY FUCKS ABOUT WHATS GOING ON IN YOUR LIFE

"

—Judy Fabray (Quinn's Mother)
"

You have too many damn messages for me to count.

"

—-Voice Mail box
"

I'm not outside your window either. I... please don't call the cops like last time.

"
"

Blaine: ♪ (sung) This is Kurt and Blaine, leaving you a message, and thinks that you're insane, You gotta get yourself together!♪-

Kurt: Blaine! How many times do I have to tell you not to sing during-

"
"

Santana: Brits and I can't hang out today, we're gonna be too busy.
Brittany: We're having a sex marathon.
Santana: Brittany!
Brittany: What?

"
"

"........"
Quinn: That must of been Tina leaving a message.

"
"

Have a nice day,...b*tch!

"
Ad blocker interference detected!
Wikia is a free-to-use site that makes money from advertising. We have a modified experience for viewers using ad blockers

Wikia is not accessible if you've made further modifications. Remove the custom ad blocker rule(s) and the page will load as expected.