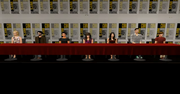 These are the quotes from
Sim-Con 2012 Panel
, which was released on July 26th, 2012.
"

Host: You know, this is the last year that you're spoofing season three, and we just want to know what's it like on set knowing it's the last year you're doing this.
Naya: For a lot of us, it's like our home, this is where we all started.
Dianna: I'm actually- I'm actually pretty happy to be out of this. I can't wait to end this..actually.

"
"

Naya: Um, kissing Heather is-
Dianna: I've kissed girls before! It's fun!!
(the audience cheers)
Dianna: Alright!!

"
"

Audience Member: Naya, how's your album going?
Naya: Well we've been working on it now for about like 15 years, so far we have like 3 seconds done. You actually have a sample right?
Host: Actually we do, exclusive to SimCon, for you guys, so lets play it!
♫ uh-huh ♫
(the audience cheers)

"

—Naya, Host and an Audience Member
"

Audience Member: Kevin, do you think Dianna's character deserved to be in a wheelchair like the writers did to you?
Kevin: Well er, it gave me more screen time.

"

—Kevin and an Audience Member
"

Audience Member: Lea and Dianna. What are your views on those very graphic images of Quinn and Rachel, which are very romantic intimacy sessions?
Cory: I actually have a one of those as my wallpaper on my laptop.
Lea: Are my boobs that big?
Dianna: They're actually very well done..
Lea: Wait. My boobs?!
[silence]
Lea: Oh, the art.. The art..


"
"

Jenna: I like any scene where I'm able to talk
[Laughter]
Jenna: That wasn't a joke.

"
"

Audience member: This question is for Lea and Cory, what exactly is happening between you guys under that table right now?
Cory: Well uh, we're not even sitting next to each other.. so...


"

—Cory and an audience member
"

If all your Charlies left their houses with their pandas each weighing over 9000 lbs to get to your house with the constant velocity of 56 miles per hour and moving at 2 light-years per second, where was your and Lea's first date?"

"

—An audience member to Dianna
Ad blocker interference detected!
Wikia is a free-to-use site that makes money from advertising. We have a modified experience for viewers using ad blockers

Wikia is not accessible if you've made further modifications. Remove the custom ad blocker rule(s) and the page will load as expected.