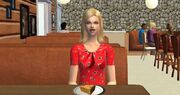 These are some of the quotations from the special minisode,
Simtendo 3S TV Commercial
, which aired January 20th, 2013.
"

Some people think I'm all sing and dance, and they're right cause that's what I get paid to do.

"
"

Where do I get my inspiration? From everywhere, except this diner because there's nothing in here but an apple pie and some extras. What the f**k am I suppose to do with this apple pie? Take a picture of it, this isn't Instagram?

"
"

Rated E for everyone but you.

"

—infomercial voice
"

"This product doesn't exist for humans. Do not try to buy it in stores because you'll look like an idiot. Dianna Simgron threw hers away after this commercial. We're selling it on ebay. Wow this text is small. If it were any smaller, you would need a magnifying glass to read it, but who the hell owns a magnifying glass?"

"

—Ad text
Ad blocker interference detected!
Wikia is a free-to-use site that makes money from advertising. We have a modified experience for viewers using ad blockers

Wikia is not accessible if you've made further modifications. Remove the custom ad blocker rule(s) and the page will load as expected.