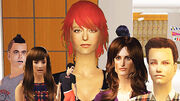 These are some of the most notable quotations from
The Brown Unicorn Project
. 
"

Rachel: Kurt, I thought you were gonna let me to the ending of the interview?
Kurt: Bitch please, I'm Kurt Hummel!

"

—Rachel Berry and Kurt Hummel
"

Emma: Okay, so it has occurred to me that your obsession with Finn is still growing strong.
Rachel: Well, it's not-
Emma: Mmm mmm dear, I'm still talking.
Rachel: Yeah but-
Emma: Shut up b*tch. Now, I'm gonna say some words, and I want you to say the first thing that comes to mind.
Rachel: What is this test for?
Emma: To see how deep your obsession runs. Okay, first word: Love.
Rachel: Finn.
Emma: Purple.
Rachel: Finn.
Emma: Cloud.
Rachel: Finn.
[Pause]
Emma: Cinnamon toast.
Rachel: Finn.

"
"

=I've dropped my old look faster than Kurt dropped Mercedes.

"
"

Brittany: Unicorn.
Santana: I know Brit, I know.

"
"

I just wanted to tell you that I'll be running for Congress. Why? Because they don't know what else to do with my character.

"

—Sue Sylvester to Will
Ad blocker interference detected!
Wikia is a free-to-use site that makes money from advertising. We have a modified experience for viewers using ad blockers

Wikia is not accessible if you've made further modifications. Remove the custom ad blocker rule(s) and the page will load as expected.